Cleaning Services - Charlottesville, VA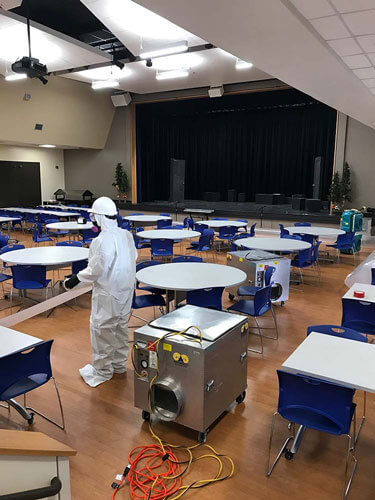 Commercial Cleaning Services
Sometimes your office needs more than routine janitorial services. At ServiceMaster of Charlottesville, we bring the same care and attention to our business cleaning service that we devote to your home. From wall dividers to carpeting and upholstery, we ensure the highest level of clean for your employees, clients, and business colleagues. ServiceMaster of Charlottesville also prepares rental properties, both residential and commercial, for turnover.
Special Occasion Cleaning Services
Some events like family reunions, weddings, preparing your home for sale, or just a good spring cleaning, require the highest level of clean. Our technicians use an exclusive range of specially formulated products, methods, and equipment for a top-to-bottom cleaning of your carpets, rugs, upholstery, and more. Our professional cleaning service is designed to bring out the best in your Charlottesville, Warrenton, or Culpeper home.
Don't need a top-to-bottom cleaning this time?
Your local ServiceMaster of Charlottesville representative will be happy to give you an estimate for the particular service you require and to schedule a time that's convenient for you.
Carpet Cleaning
Carpets are an investment. They should be professionally cleaned every six months to a year. Cleaning them yourself may seem like a cost-effective choice, but rented equipment doesn't entirely remove the detergent and often leaves the carpet too wet. This failure provides a breeding ground for mold and bacteria.
The ServiceMaster of Charlottesville exclusive carpet cleaning process will leave your home or office with a whole new level of clean. Our process includes the following:
Initial inspection to determine the best method to clean them
Pre-treating stains and spots before the process begins
Pre-applying the cleaning shampoo to loosen ground-in soil
Rinsing your carpet with hot and clear water
Post-treating any remaining stains
Grooming carpet for efficient drying and uniform appearance
Placing pads beneath furniture legs to protect the carpet during the drying process
Performing final inspection with you present to make sure you are completely satisfied
Upholstery and Drapes
Drapes become drab, and heavily-used upholstered furniture becomes visibly soiled over time. From vacuuming, spot treatment, and shampooing through to water extraction and polishing frames, we'll keep your drapes and upholstered furniture looking like new.
Windows
Dirty windows are unsightly and hinder natural light, but washing them can be a chore. Let ServiceMaster of Charlottesville come to your rescue. Our trained, insured professionals have the equipment and expertise to make even those older, hard-to-reach windows sparkle and shine.
Odor Removal
We don't just cover up odor; we destroy it. Our revolutionary OdorKlenz® technology eliminates even tough to remove odors caused by pets, mold, smoke, and sewage faster and more effectively than the thermal fogging, ozone, and masking agents used by other service providers. Best of all, it's non-toxic to humans, pets, plants, and the environment.
At ServiceMaster of Charlottesville, we give you the option to Go Green!
ServiceMaster of Charlottesville has specifically developed advanced products and methods to make green cleaning as effective as traditional cleaning methods. We make switching to green cleaning easy. With just one phone call, your home or business can experience all the benefits of green cleaning. ServiceMaster of Charlottesville is one of the only cleaning companies whose products are certified by the leading environmental organizations Environmental Choice and Green Seal.
Call us today to learn more about our cleaning services in Charlottesville, Culpeper, Warrenton, and the surrounding areas of Virginia.