Additional Information & News
Business Owners
Minimizing Business Interruption 24/7/365
As a business owner, you know water- and fire-related damage can mean lost customers, lost inventory, lost property, and lost revenue. A swift and effective response can mitigate the losses associated with disaster-related emergencies so when disaster strikes your place of business, call ServiceMaster of Charlottesville. With the most extensive inventory of disaster restoration equipment in the Virginia Piedmont, we're ready for commercial losses of any size 24 hours a day, 365 days a year. And, with specialized services like our 1-866-RECOVER program, data/document restoration, and the highest standards of customer service in the industry, we have the experience and expertise needed to get you back in business – FAST.
Continuing Education for Insurance Professionals
As an insurance professional, you're often the first contact for a policyholder who has experienced a disaster. The more you know about the disaster mitigation process and recovery, the more you can guide your client to the right steps to control damage and therefore control costs. With Continuing Education (CE) options from ServiceMaster of Charlottesville, you and your staff can be better equipped to help your policyholders by understanding the latest disaster restoration techniques, procedures, and best practices.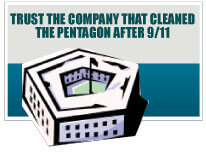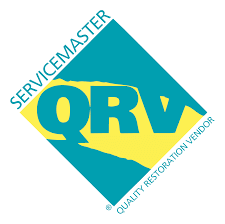 Coping with Water, Fire, and Smoke Damage
Water Damage Tips
Dos
Call ServiceMaster of Charlottesville immediately. Water damage and bacterial growth can begin within hours.
If possible, stop the source of the water.
Blot furniture, prop up cushions on upholstered pieces, and place furniture legs on wood blocks or aluminum foil.
Turn on the air conditioning or heating system. Turn on ceiling fans if the ceiling isn't wet.
Lift draperies and sheers off wet surfaces. Loop the draperies through a coat hanger and place on the drapery rod.
Move photos, paintings, and art objects to a safe, dry location.
Check under all beds and in closets for wet surfaces.
Open closets, drawers, and cabinet doors to enhance drying.
Don'ts
Don't touch any electrical source or enter a room with standing water until electricity has been turned off.
Don't use ceiling fixtures if the ceiling is wet. A short circuit could result.
Don't use electrical appliances while standing on wet flooring or carpeting.
Don't use appliances that have been close to fire or water before having them checked.
Don't remove books from shelves. Instead, pack them together tightly until your restoration professional can start the specialized drying process.
Don't use a household vacuum to remove water.
Don't lift tacked-down carpet without professional help. Lifting the carpet incorrectly could promote shrinking.
Don't disturb visible mold.
Don't wait to call for professional help! Immediate action can prevent further damage.
Fire and Smoke Damage Tips
Dos
Call ServiceMaster of Charlottesville immediately. Corrosive byproducts from fire and smoke can cause irreversible damage in as few as 72 hours.
Cover carpeted traffic areas with towels or old linens to prevent additional soiling.
Discard open food packages. The food may be contaminated.
If electrical service is off, clean out the freezer and refrigerator. Leave the doors open.
Send clothing and linens with substantial smoke damage to a professional restoration cleaner rather than a dry cleaner.
Wipe Formica and chrome fixtures in the kitchen and bathroom to prevent permanent tarnishing.
Wipe residue from porcelain bath fixtures to prevent etching.
Wipe the leaves of houseplants to remove smoke residue.
Tape cheesecloth over your intake and outlet air registers to capture any loose soot in the air.
If the temperature is above 60 degrees, open doors and windows to air out the house and reduce smoke odor.
Don'ts
Don't touch anything with your bare hands. Oil from your hands can permeate upholstery, walls, and woodwork, causing further damage.
Don't attempt to clean painted walls or wallpaper. Incorrect cleaning can compound the soot residue.
Don't attempt to clean carpets or upholstered furniture.
Don't use electrical appliances without having them checked.
Don't eat food exposed to fire or smoke.
Don't use ceiling fixtures if the ceiling is wet.
Service Area & Locations