Commercial Pre-loss Planning & Large Loss Services
Commercial Pre-Loss Planning
Prepare for the Worst With the Best
Disasters can strike without warning, posing a danger to a business, employees, and business continuity. Planning and preparing for the unthinkable is your best route to mitigating losses. When your pre-loss plans include ServiceMaster of Charlottesville, you are better prepared for the unexpected. We can minimize damage and help you get back to business quickly and efficiently. Losing even a single day can be devastating to your productivity, profits, and reputation.
Did You Know?

According to FEMA, 40% of small businesses do not reopen their doors following a disaster. Just a few inches of water can cause thousands of dollars of damage.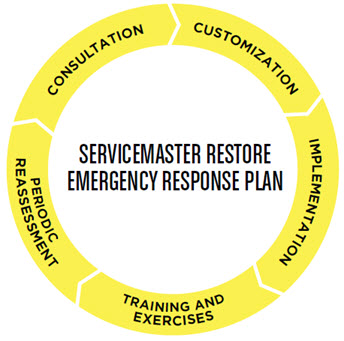 Commercial Large Loss Services
The Strength of a Nationwide Network
When a commercial large loss occurs, time is of the essence. Within one hour, the experts at ServiceMaster of Charlottesville contact you to begin mobilization and are on-site within two to four hours. No matter the type of disaster, our team of experts have the resources to handle the restoration and to provide guidance throughout the process. Our nationwide network ensures you benefit from the best recovery professionals in the industry.
From start to finish, we work with you and communicate at every step of the recovery process.

We mobilize local resources for immediate relief and dispatch additional resources as needed. No matter the location, we bring together the people, the passion and the performance to restore a business to full working order.
At ServiceMaster of Charlottesville, we understand communication is vital for business continuity. We conduct initial walkthroughs to assess the damage. We determine customer needs and deliverables. We meet with you daily to provide updates on the restoration process. We follow up with a final walkthrough to ensure all deliverables are met, and you are satisfied with the results.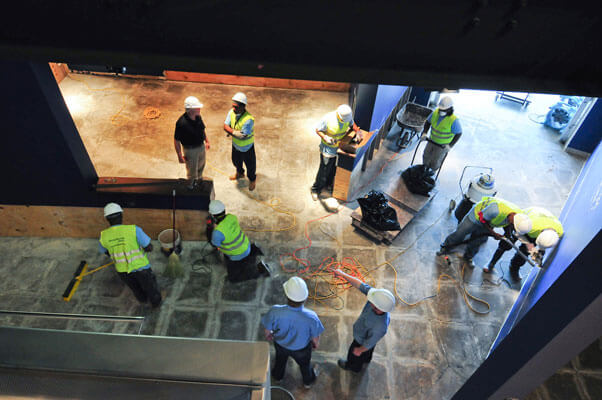 Understanding Business Continuity Planning
What is a Business Continuity Strategy?
A business continuity strategy helps guide you, your employees, and your business through a disaster. Procedures regarding preventative and recovery strategies are planned out before a tragedy hits so that everyone knows what to do until the restoration of normal operations.
Why Do You Need a Business Continuity Plan?
Since disasters can occur anywhere with little or no warning, your company should have a continuity plan in place. That way, in the unfortunate event that a loss does occur, everyone will already know how to continue business until the building, your technology, and all your essential contents can be restored to pre-loss conditions.
What is the Purpose of a Business Continuity Plan?
At ServiceMaster of Charlottesville, we understand how crucial every second of business is. Even when the office is unavailable during a disaster, work still needs to get done. The purpose of a business contingency plan is to ensure you don't lose all your profits and productivity during a catastrophe. Along with keeping your staff and your vital equipment safe, a business continuity plan provides information on how to keep operations running smoothly even when the basecamp is damaged.
The goals of a thoughtful and well-rounded business continuity plan can:
Minimize serious, long-term interruptions to day-to-day operations
Limit severe disruption
Set pre-determined locations to work remotely if the office is severely damaged
Expedite restoration services
Minimize financial loss
Equip employees with proper training and knowledge of what to do if disaster strikes
Prevent you from closing your doors permanently
Here at ServiceMaster of Charlottesville, we know the drill. Disasters strike, and businesses are left unsure of how to continue. Let us help give you peace of mind and confidence you can weather any potential storms that come your way. Together we can determine the best action items your employees and your business should take if a disaster hits your area. With the proper tools, planning, and resources, you can get back to business as usual.
After a disaster, a rapid response is critical. Even under the most challenging circumstances, we can quickly assess your situation and begin restoring your business. We'll help minimize losses by stabilizing the building environment and restoring furnishings and valuable contents. Through every step of the process, we are here for you with helpful guidance and the service you deserve.