Business Owners
Minimizing Business Interruption 24/7/365
As a business owner, you know water and fire-related damage can mean lost customers, lost inventory, lost property and lost revenue. A swift and effective response can mitigate the losses associated with disaster-related emergencies so when disaster strikes your place of business, call ServiceMaster Restore®. With the largest inventory of disaster restoration equipment in the Virginia Piedmont, we're prepared for commercial losses of any size 24 hours a day, 365 days a year. And, with specialized services like our 1-866-RECOVER program, data/document restoration, and the highest standards of customer service in the industry, we have the experience and expertise needed to get you back in business—FAST.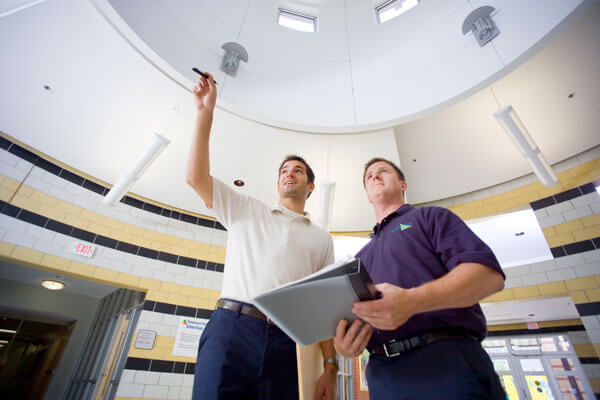 24/7/365 Priority Response with 1-866-RECOVER
Guarantee access to the disaster recovery services you require by enrolling in ServiceMaster Clean's 1-866-RECOVER program. One call to 1-866-RECOVER means your business will receive the priority service and attention it needs—even during disasters affecting entire regions. And, because we're familiar with your site, we'll be able to respond more efficiently with the proper manpower and technology for your size and situation. All of our commercial restoration services include pre-approved insurance industry pricing, the resources of a regional network of locations, and the personal oversight and care you expect from your local ServiceMaster Clean representative.
Enrollment in 1-866-RECOVER allows access to the exact combination of services to best address your needs. Available services include:
Access to our emergency response network 24/7/365
Trained, uniformed professional on site within 2 to 4 hours
Priority service over non-866-RECOVER clients
Proven commercial restoration procedures and technology
Pre-approved insurance industry pricing agreed upon at time of service
Centralized billing
Real-time reports to help with budgeting and risk management review
Assistance with emergency procedures and planning
Commitment to return your business to pre-loss condition as quickly as possible
Trust the company that restored the Pentagon after 9/11